Reports and Research Overview
Reports
Agencies, Departments, and other organizations should submit reports electronically to the General Assembly. Please see submission requirements and instructions for details about the submission process and information on formats.
Legislative Research
The Vermont General Assembly's website provides information regarding legislation, committees, the House of Representatives, and the Senate. The quantity and types of information available on the website vary depending on the years selected. Committee documents and handouts are available for most committees starting in 2013.
2009 - Present
Legislative Research is available from 2009 - present using the session indicator button located in the upper left hand corner of certain pages. Once selected, the full website's environment will show the selected date until a new session is selected. Notice of the selected session is indicated on the website's header to ensure the user is aware of the selected session.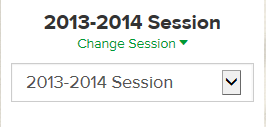 (Example session selector pictured above)
1985 - 2008
Legislative Research is available from 1985 - 2009 using the archived website available here. Please note that the quantity and types of information available on the archived website vary depending on the years selected.
Records and Archives
Current committee handouts and recordings are available through the Office of Legislative Council. Committee documents and recordings from previous sessions, and original versions of the acts and resolves are available through the Vermont State Archives and Records Administration (VSARA).
VSARA 1078 Route 2, Middlesex
Montpelier, Vermont 05633-7701
Reference Room Phone: 802-828-2308
Reference Email Address: archives@sec.state.vt.us
Special Projects
Information about special projects may be available on the Vermont General Assembly website. Examples of a special project include legislative reapportionment.
History
Historical information such as veto sessions and messages, the history of elected officials, and special sessions is provided courtesy of the Office of the Clerk of the House.  Please visit the history section of this webpage to learn more about this information by clicking here.