Representative Mary-Katherine Stone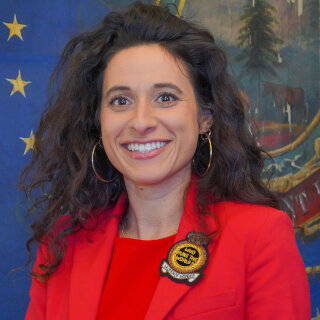 District

Party

Democrat/Progressive

Seat Number

37

Email

Phone

(802) 828-2228

Mailing Address

115 State St., Montpelier, VT 05633

Committees

Biography

MARY-KATHERINE STONE was born and raised in north central Alabama, the daughter of an Egyptian immigrant father and a native Alabamian mother. She received her BA in interdisciplinary studies with an in-depth study in human services and special populations through the New College program at the University of Alabama. She completed her MS in occupational therapy at the University of Alabama at Birmingham and did postgraduate coursework in integrative medicine at George Washington University in Washington D.C. After the completion of her schooling in 2016, she moved to Vermont, drawn by the state's natural beauty and the sense of genuine community. She currently works as an occupational therapist at the University of Vermont Medical Center where she also serves as a co-leader of the Black, Indigenous and People of Color (BIPOC) Employee Resource Group (ERG). When she is not serving the community through her work as a healthcare practitioner, she is deeply invested in volunteer service and sat on the boards of the Pride Center of Vermont, the Junior League of Champlain Valley, Inclusive Arts Vermont, and Isham Farm's First: Earth. She also serves on the Burlington City Arts Equity and Belonging Committee and Education Committee and the City of Burlington's Advisory Committee on Accessibility. She is a proud member of Vermont Professionals of Color. In addition, Mary-Katherine has served the City of Burlington as an elected justice of the peace since 2020. She is a performer and artist whose interests range from dance to stained glass. She has performed and collaborated with many groups including Ballet Vermont, Lyric Theatre, the Vermont Symphony Orchestra, the Shelburne Craft School, and Isham Farm First: Earth. Mary-Katherine resides in Burlington with her rescued Aussiedoodle, Rigby Jane, surrounded by a community full of people she loves and cares about.
Member of the House of Representatives: 2023–present.
Bills and Resolutions Sponsored by Representative Stone
Regular Session 2023-2024
Roll Call Votes by Representative Stone
Regular Session 2023-2024
| Bill | Question | Vote | Pass/Fail | Details |
| --- | --- | --- | --- | --- |