Representative Phil Pouech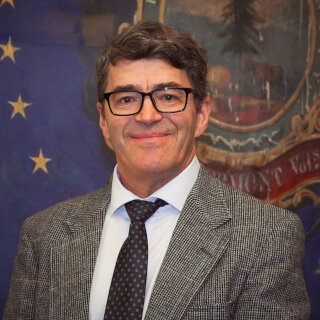 District

Party

Democrat

Seat Number

86

Email

Phone

(802) 828-2228

Mailing Address

115 State St., Montpelier, VT 05633

Committees

Biography

PHIL POUECH was born in 1957 to parents who never graduated high school. The GI bill allowed his dad to pursue a college degree and enabled the family to become first-time homeowners. Phil saw firsthand how our government successfully helped a veteran and his young family to be lifted into the growing middle class. After college and five years of work in Connecticut, Phil's young family decided they wanted to raise their family in Vermont, so they moved to Hinesburg where they've lived for over 35 years. All three children attended local public schools.
Phil has a bachelor's degree in Environmental Science from Unity College in Unity, Maine, and numerous post-graduate certificates in a range of professional and technical areas. His college academic focus was renewable energy, a rare study in the 1970's. After graduation, Phil was hired as a product support aerospace engineer. He worked for 40 years in all facets of high-tech manufacturing including engineering, environmental/pollution prevention, safety, quality, and management. For the last 18 years of his professional career, Phil worked for innovative Vermont companies manufacturing both solar and wind energy products. Phil was grateful to return to his roots in renewable energy.
Phil has a long history of public service starting with coaching youth recreation leagues. While serving on the Conservation Committee, he began coordinating Hinesburg's Green Up Day and has continued to do so for over 20 years. Phil has been an active member of the United Church of Hinesburg, promoting their mission of building community and supporting families. While working for Vermont manufacturing firms, Phil was a community advisor for Vermont Technical School's Mechanical Engineering Program and participated in hiring over 20 Vermont Tech graduates. After graduating from the Snelling Vermont Leadership Institute in 2011, Phil ran for and was elected to the Hinesburg Selectboard where he has served for 12 years, including five as Chair. Phil is also a commissioner on the Green Mountain Transit Board.
Phil and his wife, Lia, enjoy doing projects together and they try to stay physically active. With retirement, there has been more time for family, reading, gardening, raising chickens, biking, and camping.
Member of the House of Representatives: 2023 – present.
Bills and Resolutions Sponsored by Representative Pouech
Regular Session 2023-2024
Roll Call Votes by Representative Pouech
Regular Session 2023-2024
| Bill | Question | Vote | Pass/Fail | Details |
| --- | --- | --- | --- | --- |