Representative Larry Labor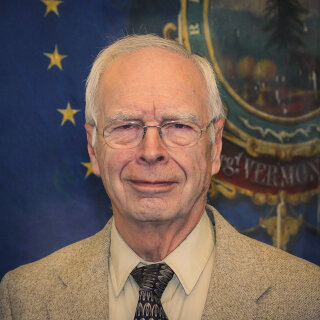 District

Party

Republican

Seat Number

75

Email

Phone

(802) 828-2228

Mailing Address

115 State St., Montpelier, VT 05633

Committees

Biography

LARRY LABOR of Morgan, in Orleans County, is a life-long Vermonter born in Newport, Vermont, in July 1944, to parents who were 2nd generation Vermont residents.
He has been married to his wife, Pauline, for 56 years, and together they have four wonderful children and five grandchildren, all of whom they try to visit as often as possible in Ohio, Wisconsin, and California.
Larry graduated from Sacred Heart High School in 1962 and attended college in Boston, graduating from Massachusetts College of Pharmacy in 1967, returning to the Newport area to work for the Eastside Pharmacy. In 1971, he applied for a full-time position at North Country Hospital and became the director of pharmacy, a position he held for 43 years. His career at NCH included various positions, initially as pharmacy director, then vice president of professional services, and interim positions as CEO.
He served for seven years on the Vermont Board of Pharmacy, which included one year as Chair of the board. He is also a member of the corporate board of Massachusetts College of Pharmacy in Boston.
He was elected to the Morgan select board in 2009 and continues in the role of select board member, having served for three terms as chair of the board. He was instrumental in converting the closed town elementary school to a facility known as NFI Turning Points, which transitions children with learning disabilities and disciplinary issues, enabling the children to return to integrated school systems. NFI has been located in Morgan for six years. His hobbies are wood working, managing his woodlot, silviculture to preserve water quality, and sustainable forestry growth. He is a pilot, former motorcyclist, and sailor, all of which served the family well in the growing years and beyond. He is excited for the opportunity to serve the residents of his district as a representative and is thankful for the trust and support given to him.
Member of the House of Representatives: 2022 - present.
Bills and Resolutions Sponsored by Representative Labor
Regular Session 2023-2024
Roll Call Votes by Representative Labor
Regular Session 2023-2024
| Bill | Question | Vote | Pass/Fail | Details |
| --- | --- | --- | --- | --- |