Senator Virginia "Ginny" Lyons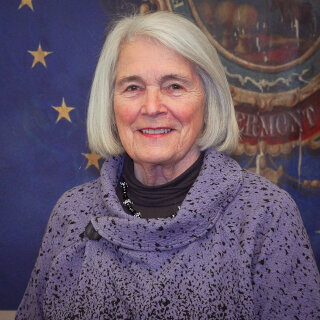 District

Party

Democrat

Seat Number

7

Email

Phone

(802) 828-2228

Home Address

241 White Birch Lane, Williston, VT 05495

Home Phone

(802) 828-2228

Committees

Biography

VIRGINIA "GINNY" LYONS, Democrat, of Williston, represents Chittenden County. She was educated at Drew University, Rutgers University, and UVM, where she earned her doctorate. She is a college professor with over 30 years of teaching, research, and administrative experience in the biological sciences including at Trinity College, VT. Senator Lyons chaired the Senate Committee on Natural Resources and Energy between 2003–2013, guiding VT's early response to climate change, renewable energy development, stormwater protection, land use planning, and reduction of toxic substances in the environment. Senator Lyons currently chairs the Senate Committee on Health and Welfare. Her legislation reflects a commitment to people, with a focus on policies to reduce trauma and toxins negatively affecting children and human development. Her legislation includes prevention and the linking of medical care with community services. She works toward health care reform for universal access, improved quality, and affordable costs. Sen. Lyons serves on various community boards and organizations.
Bills and Resolutions Sponsored by Senator Lyons
Regular Session 2023-2024
Roll Call Votes by Senator Lyons
Regular Session 2023-2024
| Bill | Question | Vote | Pass/Fail | Details |
| --- | --- | --- | --- | --- |