Representative Eileen Dickinson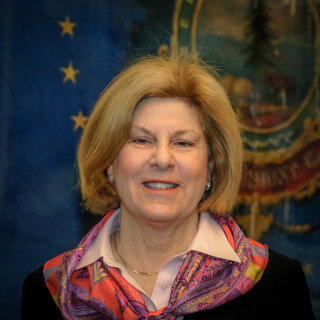 District

Party

Republican

Seat Number

72

Email

Phone

(802) 828-2228

Mailing Address

69 Button Rd., St. Albans, VT 05478

Committees

Biography

EILEEN "LYNN" G. DICKINSON of St. Albans Town, Franklin County, Republican became a resident of present town in 1973. Occupation: business manager at Dickinson & Branon Dental Care. She was educated at John F. Kennedy High School in Katonah, New York, and at Manhattanville College in Purchase, NY. She is married to Richard and they have three grown children. Owner with husband of a farm in St. Albans Town that raises Angus beef cattle. Formerly a realtor with Poquette & Bruley and a member of the following organizations: Advisory Board of the Community College of Vermont in Franklin County; Franklin-Grand Isle Mental Health Agency Board; St. Mary's Parish Council, as chair of Education Committee; President of the Title I Parents Advisory Committee for the Franklin Central Supervisory Union; President of the Parent Teachers Organization, St. Albans City Elementary; Board of Trustees, Bellows Free Academy, St. Albans, Chair for four years; School Director of Bellows Free Academy, St. Albans, Union High School District 48; Member Public Oversight Commission for BISCHA; Legislative Trustee of the Vermont State Colleges. Member of the House: 2009-2010, 2011-2012, 2013-2014, 2015-2016, 2017-2018, 2019-2020.
Bills and Resolutions Sponsored by Representative Dickinson
2021 Special Session
Roll Call Votes by Representative Dickinson
2021 Special Session
| Bill | Question | Vote | Pass/Fail | Details |
| --- | --- | --- | --- | --- |